This is a re-post from Hal Turner and Mark Brander:
http://beforeitsnews.com/blogging-citizen-journalism/2018/04/latest-war-updates-from-hal-turner-2589369.html?currentSplittedPage=0
From halturnerradioshow.com…..
Tuesday, 10 April 2018 11:18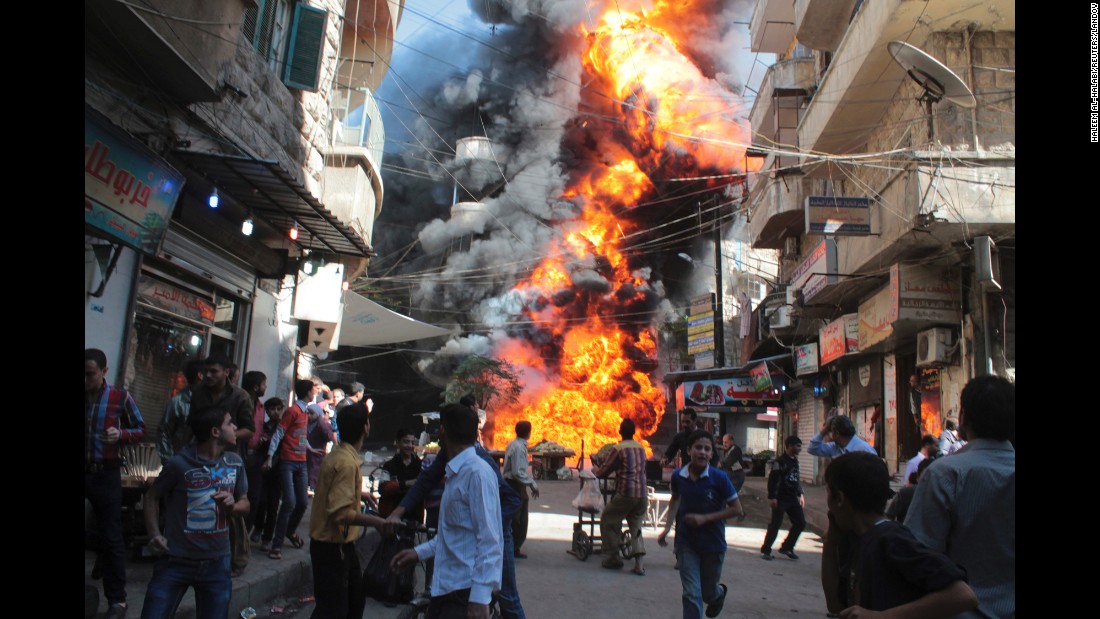 British Air Force units on Cyprus are openly being loaded with bombs, missiles and ammunition. The Russian Baltic Fleet has declared a
Combat Alert
. Russian strategic bombers are in the air over the Mediterranean Sea, loaded with
air-to-ship
cruise missiles and the Russian Air Force is conducting heavy Combat Air Patrols throughout the region.
This situation is like a huge pile of dynamite waiting for a spark to explode into direct war between Russia, the US/NATO and regional powers in the Middle East.
Russia, the only nation with permission from the Syrian government to be in that country, has told the US/UK & France they will NOT ALLOW another attack upon their ally, Syria.
Russia has made clear that it will counter-attack; shooting down any missiles launched at Syria, shooting down any aircraft attacking Syria, then further attacking any Navy ship which launched such missiles and air bases from which attacking planes were launched!
The US/UK/France claim that a Chemical Weapons attack was perpetrated 4 days ago against innocent civilians in a suburb of Damascus called east Ghouta. The attack ALLEGEDLY involved Chlorine Gas and possibly a Nerve Agent.
Reports vary, saying between 40 and 161 civilians were KILLED and upwards of 1,000 others injured.
The US/UK/France blame this "attack" upon the Syrian Government, but evidence from the area shows Chlorine Cylinders manufactured by MERCK, at their Schudgardt, Germany facility. That means the Chlorine was supplied by Germany, a NATO country. Here is one evidence photo:
MERCK has thus far FAILED to respond to my media inquiries which cited a serial number on one of those Chlorine Cylinders. I contacted MERCK in Germany seeking answers to who bought that cylinder, when, to whom was that cylinder shipped, where and when? MERCK in Germany failed to respond.
WAR PREPARATIONS UNDERWAY
During the night, military units in Syria from the Syrian Arab Army, Iranian-backed Hezbollah, and Russia were ordered to begin DISPERSING from several bases, in anticipation of a US/UK/France military attack.
Russian Air Force has sortied at least two Early Warning Planes (A-50s) over Eastern and Western Syria, each one is guarded by two Russian Air Force (RuAF) fighter jets.
British military in Cyprus has been put on alert for military action in Syria with 'remarkable' activity being reported.
Russian Black Sea Fleet has declared a high level combat alert for all vessels as US-led trans-national strike force with UK and France poised to strike Syria over chemical weapons allegations. Attack is expected in the next 24 hours.
RuAF is highly active over Syria with multiple planes airborne near its coast, a U.S. P-8 POSEIDON anti-submarine aircraft was just monitored collecting signal and electronic intelligence off the coast of Syria and is now currently just off Lebanon
Russian strategic bombers are airborne over the Caspian sea and over Iran, fully loaded with Kh-55SM extend range to 3000 km cruise missiles. These missiles are air-to-ship and they are known to be incredibly precise ship-killers.
US Warships are reportedly converging in the Mediterranean, with the Pentagon already admitting the USS Donald Cook is on-station near Syria.
Surface vessels of the Chinese Navy in the Mediterranean in joint exercises with surface units of the Russian navy have been ordered to join the Russians at the Syrian port of Tartus in case of a possible aggression against Syria. (Source) (This means we're now looking at the US/UK/FRANCE versus Syria/Russia/Iran and CHINA)
All this activity is taking place, yet the mass-media in the United States and Europe is virtually silent about it. Few if any stories are being reported as to the magnitude of what's taking place. It's almost as if the powers-that-be want the public kept in the dark until war suddenly breaks-out. This way, the public is frightened at the sudden catastrophe it is facing and will comply with what the government tells it out of fear.
From this point, updates will appear below as information becomes available. The updates are RAW INTELLIGENCE and I warn you now, in war there are often highly conflicting reports.
Updates Below as available:
Steady stream of US C-5 Galaxy Cargo Planes taking off from RAF Cardiff in Wales, presumably hauling supplies to the Middle East.
Russia Ruble is crashing in value right now, down 8% today. This comes after the Russian Stock Market too an 11% drop yesterday.
US Navy Boeing P-8A (168439) from NAS Sigonella making surveillance mission off Syria coast, near Latakia Russian bases (harbor and airbase) Radar Path below: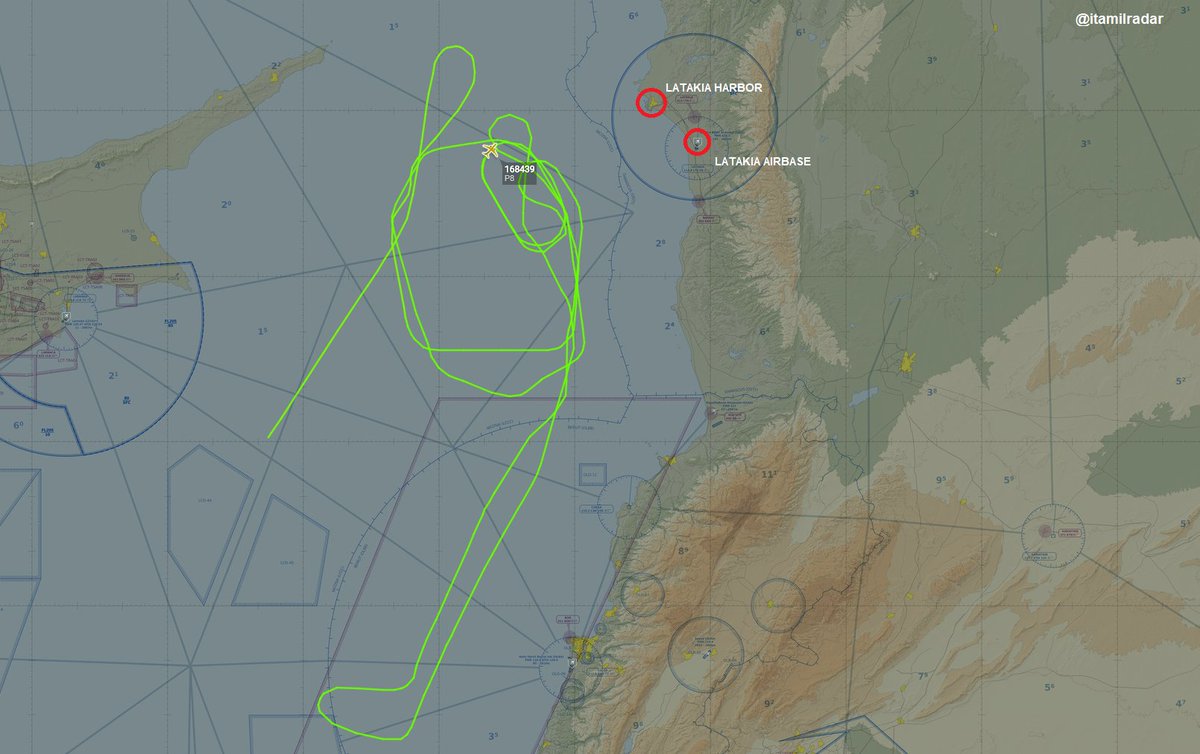 A Russian Warplane has conducted mock attacks against French Frigate 'Aquitane' (Photo below) in the Mediterranean Sea
Reports now that the Syrian Army and Air Force is evacuating warplanes from Al-Typhur and Al-Seen Airbases, towards Al-Nayrab Airbase and Damascus International Airport
Free Syrian Army factions at the American At-Tanf base are reportedly preparing to attack the SAA held Deir Ez Zor city, possibly when the US coalition launches large strikes on Syria
President Trump cancels first trip to Latin America: White House President Trump no longer going on upcoming South America trip; will remain in US "to oversee the American response to Syria."
REPORT UNCONFIRMED:
USA wants to launch Ground Operation inside Damascus within next 24 hours! USA military prefers massive operation Ammunution for US & NATO Troop allegedly being deployed across Syria now. France & UK Troops already secretly sent into northern Syria.
Reports of Syria Deployment of anti-missile systems around the presidential palace and the defense ministry in Damascus, according to a UN diplomatic source. Aircraft reportedly transferred to Russian base near Lattaquieh
Russian SU-24 fighter bombers have started buzzing US warships at crazy low levels in the Mediterranean.Some flying as low as 50-60 feet.
Russia will take all political, diplomatic and military retaliatory measures if necessary should the United States deliver a strike on Syria, Russian State Duma (lower house of parliament) Defense Committee Chairman and former Commander-in-Chief of the Russian Airborne Troops Vladimir Shamanov said on Tuesday according to TASS
The US has requested a vote at 3pm (7pm GMT) on a draft UN resolution to set up an inquiry into multiple chemical weapons attacks in Syria
(Editor's Note: I suspect the Resolution will be vetoed by Russia, and then WAR. This is really fucking bad. This is the closest we've ever been to world war 3 ever since the Cuban missile crisis.)
White house is briefing the press that they wont accept any delays and
they will move with or without the vote
, but would prefer one.
Syrian forces have begun to shuttle their fighter jets to Khmeimim Air Base, a Russian air force base in Latakia.
USS HARRY TRUMAN STRIKE GROUP of SEVEN WARSHIPS ARMED WITH CRUISE MISSILES ARE BEING DEPLOYED TO THE MEDITERRANEAN
Russian ambassador Nebenzia called out the three major imperial powers (U.S./UK/France) in the UNSC meeting on Syria for lacking "a clear strategy":
"Everything you touch, chaos is left behind…do you not understand the dangerous threshold to which you are bringing the world?"
Saudi Arabian FM confirms support for strikes against #Syria, making #KSA first Middle Eastern state to join the #US-led trans-national attack. #UK and #France have pledged forces to strike over alleged chemical weapons usage. Attack expect in next 24 hours
Reports that UK, France, Saudi Arabia, Qatar and even Israel have signaled that they want to help US in an attack on pro-Assad forces. Pro-Assad forces have started moving planes and helicopters to better defended airbases.
Russia's Ambassador to the UN claimed they are not afraid to attack US Military assets if the US strikes Syria; so it's not just Ships — US also has bases and 2k troops in the north of Syria
Russia's UN Ambassador, Vassily Nevenzia, has said the US draft resolution to condemn the continuing use of chemical weapons in Syria "contains some unacceptable elements which may make it even worse".
In addition to USS Donald Cook, the U.S has now dispatched USN Carrier Strike Group 8 to the Mediterranean/#Syria:
- USS Harry Truman aircraft carrier
- Carrier Air Wing VII
- USS Hué City missile cruiser
- x6 Arleigh Burke-class Destroyers
- x1 Oliver Hazard Perry-class frigate
OPCW to send independent chemical weapons investigators to #Syria's Douma in what is hailed as a diplomatic breakthrough, hoping to prevent a #US-led strike on Syria. #Russia has backed the inspection.
The international chemical weapons watchdog will send a fact-finding mission to Douma, Syria, to investigate the reports of an attack there. The move follows calls from Moscow and Damascus to launch an international investigation.
"Today, the OPCW Technical Secretariat has requested the Syrian Arab Republic to make the necessary arrangements for such a deployment. This has coincided with a request from the Syrian Arab Republic and the Russian Federation to investigate the allegations of chemical weapons use in Douma. The team is preparing to deploy to Syria shortly," the Organization for the Prohibition of Chemical Weapons (OPCW) said in a statement on Tuesday.
The incident allegedly occurred in the Damascus suburb of Douma on Saturday. It was reported by several rebel-linked activist groups, including the controversial White Helmets, who accused the Syrian troops of dropping chlorine-filled munitions on the area. They also claimed it affected dozens of civilians, and footage of children being allegedly treated for poisoning has appeared online.
Damascus has called the alleged attack a "fabrication." Russian military specialists have explored the area as Jaysh al-Islam militants occupying Douma began to evacuate from the city as part of a Russian-brokered deal with Damascus. Moscow said the specialists had found no traces of chemical weapons or any victims treated for chemical poisoning.
The OPCW's announcement came shortly before an expected UN Security Council meeting on the alleged Douma incident. Both Russia and the US are expected to roll out draft resolutions calling for an international investigation into the purported attack. On Monday, the UN said it was unable to "independently verify the allegations" regarding Douma.
"We're not in a position at this point to independently verify the allegations but, obviously, any allegation of continued use of chemical weapons is extremely, extremely troubling," Stephane Dujarric, spokesman for UN Secretary-General Antonio Guterres, said.
Defense Sec. James Mattis was scheduled to travel to Nevada and San Francisco this weekend but has since canceled his trip, a U.S. official says
Reports that multiple RuAF warplanes carrying anti-ship missiles broke the sound barrier over Tartous and Latakia just now.
***** BULLETIN *****
Alert notification for civilian Aviators for the Eastern Mediterranean / #Nicosia FIR.
The notice above is now being re-transmitted throughout Europe:
Please note that E A S A has issued ' Rapid Alert Notification for Eastern Mediterranean / Nicosia FIR area' stating that:
Due to the possible launch of air strikes into Syria with air-to-ground and / or cruise missiles within the next 72 hours, and the possibility of intermittent disruption of radio navigation equipment, due consideration needs to be taken when planning flight operations in the Eastern Mediterranean / Nicosia FIR area. '
Aircraft operators are invited to check any relevant NOTAMs
NMOC Brussels
12:03 PM EDT — Russia just informed the UNSC that the US draft which will be discussed tonight is not accepted.
12:20 PM EDT – US Navy San Antonio-class amphibious transport dock USS New York (MMSI:369970522) is on the move.
12:33 PM EDT – Prime Minister Theresa May and President Donald Trump have spoken on the phone and condemned Syrian president Bashar Al-Assad's "vicious disregard for human life" and agreed importance of upholding the worldwide prohibition on the use of chemical weapons
12:50 PM EDT – RuAf T154B2 from Moscow, Russia to Baltimore, USA & Back on Same day: 10 April. There must be someone very special on that Flight. May be a General of Russian armed forces with some eye opening warnings for Donald Trump.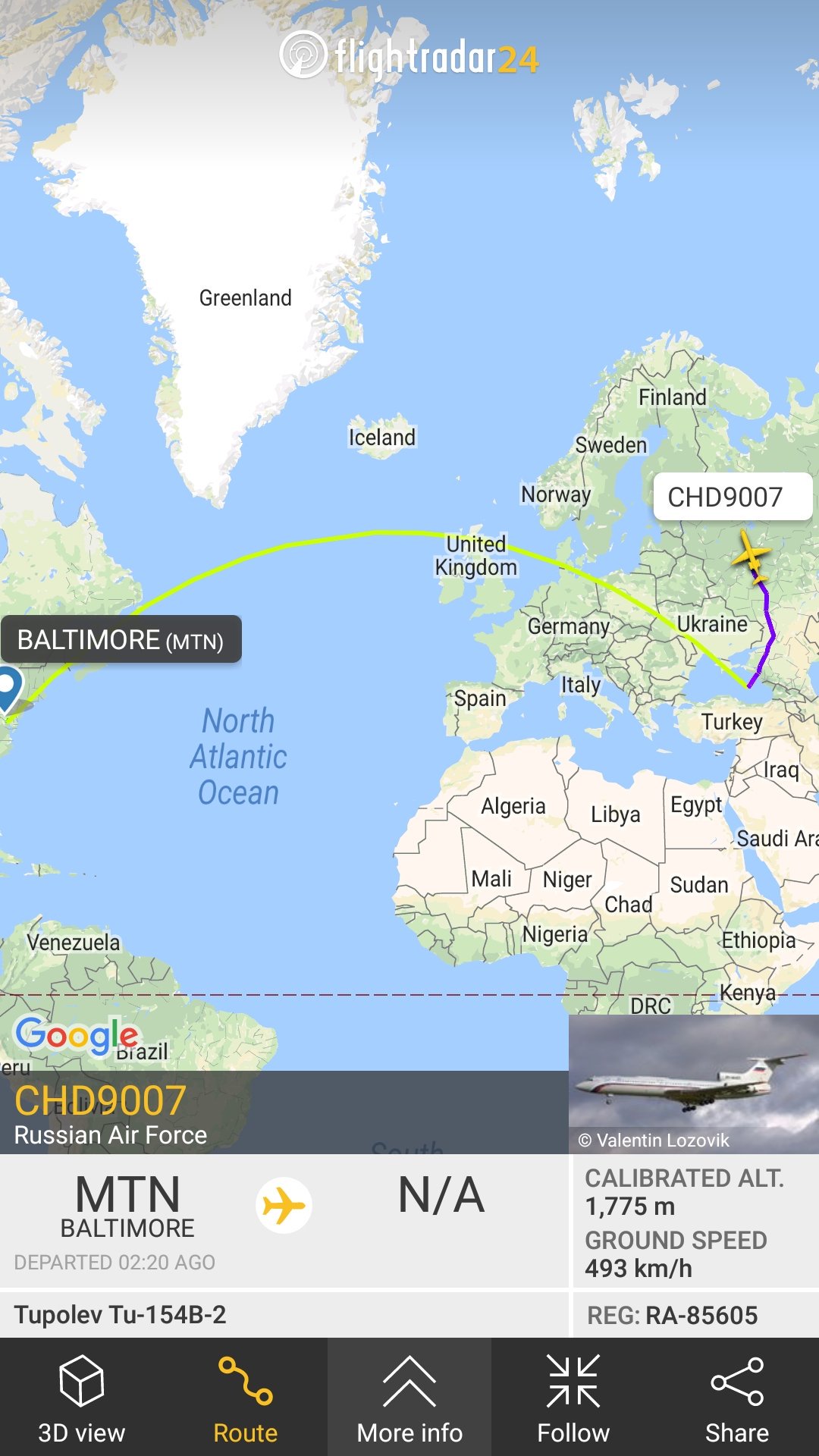 1:14 PM EDT – "Doomsday Plane" (Boeing E-4B Nightwatch) in the air now…
1:35 PM EDT –
US Ambassador to NATO has told me President Assad is guilty of "genocide" and military action would be "an appropriate response"
On military action the Ambassador said this:
"I believe a military response, taking out perhaps some of the places where these missions are taking place – the bases from which they're flying to drop chemical weapons – I think that would be an appropriate response."
1:40 PM EDT –
RUSSIAN STATE MEDIA: "US WON'T BE ABLE TO CONDUCT SYRIA STRIKES WITH IMPUNITY, UNLIKE THE LAST TIME"
NATO Sec. General Jens Stoltenberg said in an interview with NRK Dagsrevyen tonight, there will be a sharp reaction from the US within the next 24 hours. He also said NATO is in close consultations with the US and other NATO countries on the reaction to the chemical weapons attack in Syria.
2:00 PM EDT –
Russian jets buzz American and French warships near the Syrian coast line. The jets were fully armed with missiles.
2:34 PM EDT –
A senior Russian lawmaker warns the US against a strike against Syria, says it could trigger a direct military clash between Russia and the U.S.
"Shamanov emphasized that a retaliatory Russian strike could target U.S. navy ships and aircraft. He added that the use of nuclear weapons is "Unlikely… as yet" (not ruled out)
2:40 PM EDT – 'Crucial crossroads': Beijing warns against military intervention in Syria
2:55 PM EDT –
ALERT According to reports, British forces are mobilizing at their bases in Cyprus and Rafale fighter jets could takeoff from St Dizier airbase in France for possible strikes against Syria
3:15 PM EDT –
The Israeli Defense Force (IDF) hs now gone on high alert in northern Israel as regional tensions soar with Syria.
3:20 PM EDT — UN security council meeting begins
3:22 PM EDT – Russia Ministry of Defense (MOD) has asked Iran to provide access to Iranian Republic Air Force's 3rd Tactical Fighter Base in Hamedan to deploy its heavy bombers (probably Tu-22 or Tu-95), Il-78 tankers & use it as refueling point for fighter jets which are planned to be deployed to Syria.
3:30 PM EDT – Nikki Haley now speaking before the UN vote. Says US proposal is the "bare minimum". Says Russian proposal allows Russia to choose the investigators and would not be independent. Says we can not delay any longer.
VOTING BEGINS AT UN SECURITY COUNCIL ON AMERICAN RESOLUTION FOR SYRIA: 12 in favor, 2 against, China abstains
3:40 PM EDT –
US draft vetoed by Russia
3:42 PM EDT –
RUSSIAN AMBASSADOR TO LEBANON ALEXANDER ZASYPKIN:
"RUSSIA WILL RETALIATE AGAINST THE UNITED STATES IF THE LATTER LAUNCHES AN ATTACK ON SYRIA"
3:45 PM EDT — RUSSIA PROPOSAL ON SYRIA BEING VOTED ON BY UN SECURITY COUNCIL
359 PM EDT –
'ALL NECESSARY ASSETS' IN PLACE TO ATTACK SYRIA, ORDERS FROM TRUMP EXPECTED 'ANYTIME' – U.S. MILITARY OFFICIALS TO I24 NEWS.
4:05 PM EDT –
RUSSIAN DRAFT RESOLUTION NOT APPROVED, NOT ENOUGH VOTES
The die has been cast. THERE WILL BE***NO*** PEACEFUL RESOLUTION OF THE SYRIA ISSUE.
4:14 PM EDT –
Russian Embassy in Lebanon: "Russia will respond to the #US and her allies in the most severe way possible if they launch an attack on #Syria. Both fixed and moving assets will be targeted."
4:18 PM EDT –
Reports of a large number of US strategic bombers arriving in UK Cambridgeshire
**** BULLETIN ****
4:45 PM EDT – Top Russian officials and essential government personnel ordered to command and control bunkers at locations beneath the Ural mountains, effective immediately.
PENDING CONFIRMATION – Above BULLETIN NOW REMOVED . . .
5:15 PM EDT –
A U.S. military official indicated that in the event of Iranian missile strikes against Israel, "we will have fighting forces moving within 72 hours".
5:20 PM EDT – The UN Security Council HAS RECONVENED behind closed doors.
The Swedes are trying to broker a deal between Russia and the rest of the council where they investigate who was responsible for the chemical attack in Syria, and hopefully avoid an escalation in local conflict among the larger countries with vested interests.
5:25 PM EDT –
Several #MiddleEast-based outlets have reported about the alleged evacuation of Assad and all his relatives to Tehran due to fears of military action by Western states against Syria looming
FOUR (
4) US Navy E-6B's up – all on miscoded transponders! This is not an accident. They are scrambling the aircraft's identities.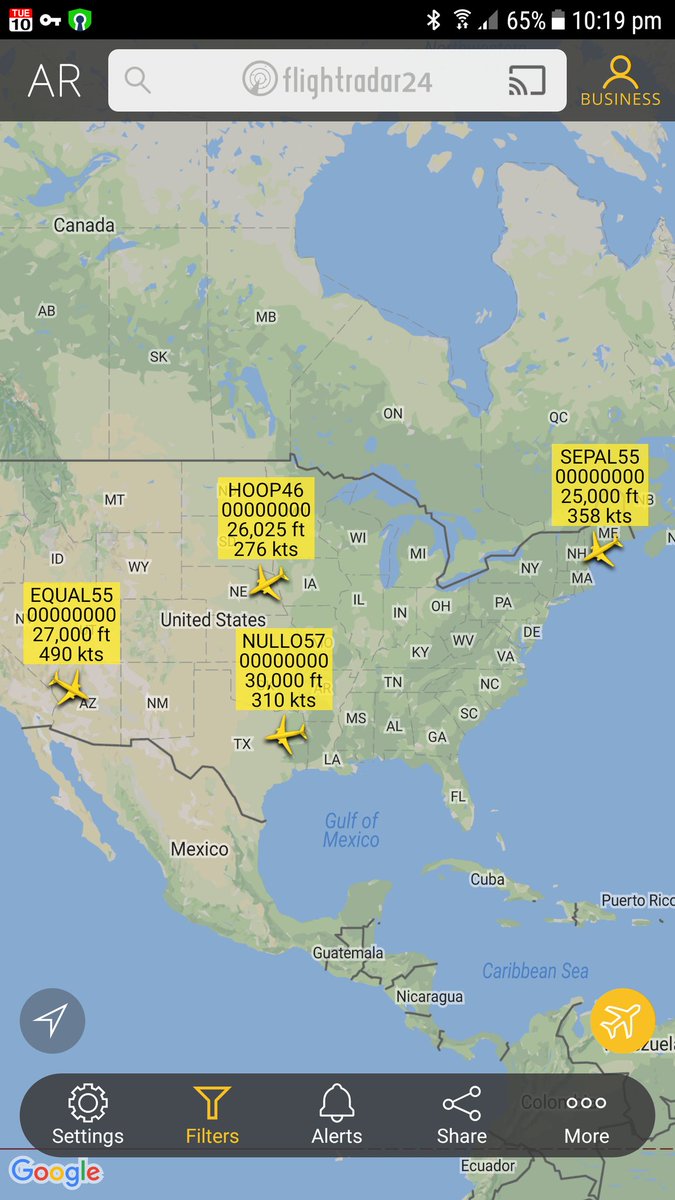 The Boeing E-6 Mercury (formerly E-6 Hermes) is an airborne command post and communications relay based on the Boeing 707-320. The original E-6A manufactured by Boeing's defense division entered service with the United States Navy in July 1989, replacing the EC-130Q. This platform, now modified to the E-6B standard, conveys instructions from the National Command Authority to fleet ballistic missile submarines (see communication with submarines), a mission known as TACAMO (TAke Charge And Move Out). The E-6B model deployed in October 1998 also has the ability to remotely control Minuteman ICBMs using the Airborne Launch Control System. The E-6B replaced Air Force EC-135Cs in the "Looking Glass" role, providing command and control of U.S. nuclear forces should ground-based control become inoperable. With production lasting until 1991, the E-6 was the final new derivative of the Boeing 707 to be built.
5:30 PM EDT –
Russian Kalibr crusie missiles locked on US bases in Syria
The Armed Forces of the Russian Federation are put on full combat readiness
If the United States decides to use force in Syria in connection with an alleged chemical attack in the city of the Duma, they will receive a similar response, not only from Damascus, but also from Moscow.
Warships in Mediterranean, as well as Black and Caspian sea fleets are ready to struck US facilities and bases in the Middle East if the Pentagon decides to use force in response to alleged chemical attack in Douma.
5:45 PM EDT –
2nd UN Security Council Resolution Vote Failed 5-4
DOOM IS ON THIS TIME
ITS HAPPENING FOLKS!!!!!
6:09 PM EDT –
Russian ambassador at the #UNSC: The strike that you're planning against #yria will lead to a catastrophic results.
6:10 PM EDT –
Russia deploying numerous Su-34s and Tu-154 to Syria
6:12 PM EDT –
"Any Russia-U.S. military clash will expand beyond a local conflict and a confrontation will be inevitable." -
Retired Lt. Gen. Yevgeny Buzhinsky (former chief of the Russian Defense Ministry's international department)
Definitely he hints at Ukraine and NATO presence on the Russian borders in Baltics.
***** BULLETIN *****
6:14 PM EDT — I can now positively confirm that "Major Military Strikes" against Syria by the United States and our allies, ARE IMMINENT. This information is 100% corroborated by people with direct knowledge of planning.
6:37 PM EDT –
Observes have noted numerous coalition assets airborne near the Iraq-Syrian border. Breaking Heavy flight of US-led coalition aircraft over the #Syria-Iraq border (al-Jazeera)
6:44 PM EDT –
Al Jazeera now reporting major inbound coalition armada
6:46 PM EDT – Numerous US and French aircraft are airborne over Jordan.
6:59 PM EDT – Israeli media is reporting that "Israeli Prime minister has revealed during a security meeting that the US will strike a military blow to the Syrian regime."
7:02 PM EDT –
Russian Defense Ministry public advisory council member Igor Korotchenko: "Trump has to understand that we're going to be talking about the possibility of nuclear escalation if we have a collision of the U.S. and Russian militaries"
Russia's UN Envoy warned "If you made a decision to carry out an illegal military endeavor, we hope, hope that you will come to your senses. You will be responsible for it yourselves" — UNSC
BREAKING: The US led coalition is asking all flight companies in the Middle East to change their itinerary in Syria to another country because of possible airstrikes against Syrian Army targets: — KURDISTAN 24
7:10 PM EDT — *** UNCONFIRMED *** reports from Turkish media claim missiles have been fired at Syria from ships in the Mediterranean Sea. **UNCONFIRMED**
Get right with Jesus NOW!
A SPECIAL LETTER FROM JESUS CHRIST FOR THE HARD TO REACH
Received by Julie Whedbee
My most precious child, If you are receiving this letter, it is because someone loves you very much. He or She may not have been able to talk to you about this in the past, or perhaps they have talked to you about Me, but you were not ready to listen.
The most important thing I want to tell you is that I LOVE YOU. I love you more than anyone in this world could ever love you. I want you to read this now and learn of Me because you are running out of time to learn the truth.
Life as you know it now will suddenly and radically change in an instant and I want you to be ready.
MY NAME IS JESUS CHRIST, THE MESSIAH.
I have come to you to give you eternal life. I have come in the flesh and given you the most ultimate sacrifice anyone could give in that I died for you, shedding My blood to atone for your sins; not only those sins you have committed in the past, but for every sin you will ever commit.
The price for your sins has been paid. I was the sacrificial lamb, slain for you. Your debt is paid.
I did this so that you could have access to the Kingdom of Heaven with Me and Our Father forever. You were beautifully and wonderfully made, intricately designed, and purposed for so much more than this life.
You have known all along that there was more, that your heart yearned for something greater, something that would fill the emptiness, fill that space inside and 'complete' you.
It is My greatest desire that you know that what you have been looking for is Me! I am the One who has created you for a special purpose and whose love for you will never die!
My gift is a free gift, no conditions, all you need to do is accept this most precious gift from Me and you will then have all My promises.
You must know that you could never do anything on your own to earn My love, or earn your way into Heaven. Your acceptance of Me and My sacrifice is all that is required. My blood covers all, and ensures you will live with Me always.
I have given you a book- The Holy Bible – that tells you all about who I am. It is your instruction manual in this life, and it tells you not only what has happened in the past, but it also tells you what is about to happen to this earth.
I love all of My creation so much that I always let you know what I am about to do. This is why you are receiving this letter. I am about to make Myself known in a very powerful way. Because so many have chosen not to accept Me for who I am and follow My commandments for your lives, I will shake the very foundations of all you know to be your security. This is how I will get the attention of My creation.
I do not want you to be in fear, and I do not want you to miss the most important reason that you were born to be here. This reason is to have an intimate relationship with Me. To not choose Me is to choose a life in darkness eternally.
I am the Way, the Truth, and the Life. I offer you this gift and this decision because of the free will I have given you. I would never force you to love Me, but you must know that to ignore My desires for your love means eternity without light, love, peace and joy. It is a life wasted and cast away.
Don't waste another moment believing the lies of My enemy, the devil.
Don't believe that life will go on continually the way it always has been.
Time as you know it is over and I am coming to make all things new.
The signs of the times in which you live are all around you. Life as you know it has become unsustainable. Everything that can be shaken, will be shaken, and you will be forced to make a choice for your very survival.
You will choose to trust Me, the One who created you, or you will trust in a system that will fail. My Word speaks truth and all else that is not of Me will collapse.
Please, come to Me now. Come as you are. I love you no matter what you have done.
My blood washes away all your sins and makes you white as snow. I will keep you and protect you, I will provide for you and when it is your time, I will take you home with Me.
I will only have so many warnings, and then the sudden-lies will be upon you. Will you be ready? The choice has always been yours.
If you accept this free gift and desire to know Me intimately, and want to spend eternity with Me in complete peace and love, please say this prayer (out loud)
Prayer
Father, please forgive me for all of my sins. I accept your gift. I believe that you sent your Son Jesus to die for me, and that He is your only Son. I believe that His blood has paid the price for all the sins I have ever committed, and all those I will commit. I trust in you as My Creator and in all of your promises. I surrender my life to you and ask that only your will be done. I invite your Holy Spirit to come into my heart and change me, and make me more like you. I want to be obedient, and I need your help.
Please come into my heart this moment Jesus and make me a new creation in you.
In Jesus' name I pray,
AMEN
Your loving Father,
Jesus Christ, the Messiah (Yahushua ha Mashiach)
MESSAGES FROM OUR FATHER IN HEAVEN
MY SON IS MY MOST PRECIOUS GIFT TO YOU
My people, do you have an idea what an incredible gift you have been given in My most Holy Son Yahushua? I have provided a way out for you. A way out of your pain, your depression, your suffering, your loneliness, the heavy cares of the world in which you live. All the world speaks of a coming time upon the earth of great tribulation. Each soul deep in their hearts knows there is something unbalanced and unsettled at this time. Where do you think this has come from? Who do you think gently speaks to your soul, inviting you and drawing you into a deeper relationship with Me?
All is not hopeless, all is not lost. Again, I have provided a way out of the darkness that has so enveloped you. My heart mourns for those who feel they are not loved, for those who feel as if their life has no purpose, no meaning, for this is the lie of the enemy! You must know that I am Your Father and there is no one that has cared for you more than I have! Read my Word!
I speak again and again of My love for ALL men. I wish that NONE would be lost! This is why now, at this time, I am speaking to so many of my servants about repentance, words of warning about the condition of your souls. All of the things you have put your dependence on, your focus, these are all things of this world. My Kingdom is not of this world. In my Kingdom, there is no suffering, no pain, and no sorrow, no hopelessness, and no fear. But know this; this gift of My Son and My invitation to allow Him to give you access to Me through His shed blood is a choice of free will.
I will never force you to believe in Me or believe I sent My Son to redeem you. The choice will always be yours. This should show you how very much I love you, in that I would never command you to love Me as well. I want your heart and I want all of it, but it must be of your own accord. Please allow Me to soothe the hurts and pains in your life. I can fill that emptiness in your heart, and turn your sorrow into joy. I can bring you a peace that exceeds all understanding. I am the only way you will find the relief of your soul that you are so desperate for. Let Me show you this.
Give Me a chance to comfort you and all will be well with your soul. You have My word on this. I cannot let you down. You must turn from your worldly pleasures now! They only offer empty promises that could never fulfill you in the ways in which you search. Your soul is the only thing that will matter very soon, and your relationship with Me, for all these other things are soon passing away…"
Your Father in Heaven
TURN TO ME OH MAN AND BE SAVED
I have come to bring light to the world, but your hearts have become dull and cold. You have allowed the enemy to lull you into a deep sleep. So many things consume your time and your energy. Do you even ask yourself each day, 'Is this in the Fathers' Will'? You do not. You go about in vain, operating in your own selfish desires and ambitions, all of which have nothing to do with My Kingdom. When will you learn My stubborn people. Wake up! The Day of The Lord approaches so quickly now, and will sadly catch many unaware. Turn to me while there is yet still a moment left. Repent of your sins, and worship Me, the Light of the world. My love for you has not gone cold. Turn to Me! I call you each by name. I have sent My comforter to help you, to strengthen you and guide you. Leave all to Me. Only truly believe, with all of your heart, and you will be saved.
Yahushua
BONDAGE OR FREEDOM, YOU CHOOSE
How much more time will you choose to spend in bondage to the things of this world? How much more time will you waste on things that do not bear fruit? I have offered you a way of life that frees you from all burden, and guides you purposefully through this mission I have created for each of you individually. Are you truly joyful and peaceful in your soul? Do you have true rest at the end of each day, or do you find that you lie down to sleep feeling frustrated, still empty, still lacking, and inadequate in what you have set out to do for that day? What do you continue, day after day, to chase after? Money? More and more because what you have is never enough? Material things? Do you fill your days with so much work that you could never hear My voice even if I was screaming at you? Maybe you are running from past hurts and fears, thinking if you stay busy those deep wounds in your heart will someday fade away, filling your time with anything and everything, as long as you keep moving to distract yourself from facing your pain. Have you actually become obsessed with things of this earth? Technology? Media? Computers and phones, alcohol, drugs, sex, food, the list goes on and on. I have only ever asked one thing of any of you, and that is a relationship with you. I don't want or need your money, your hard work, your accomplishments, or your things. I want to spend time with you. It's that simple. There was a time when I walked and talked with man in the Garden, and there will come a time again when we will do so. But you may still find Me close today. I am as close as your next breath. I have never left you or forsaken you, so why have you separated yourself from Me? You know by now that this world offers nothing that can truly satisfy the longing in your souls. I am the only Way, the Truth, and the Life. I make this request yet again. Please, come to Me, and I will bring rest to your souls and give you a peace that will astonish you.
Give Me a chance! You won't regret it!
Let ME fill all the empty spaces you need filled.
I love you.
Yahushua